Hands-on grape tourism at a fruit farm in Okayama
What is the SCRE GRAPE TOUR?
A unique opportunity to learn about grape cultivation and harvesting from experienced farmers in Okayama. You will also have the chance to participate in a variety of hands-on activities, such as grape seminars, fruit farm tours, and agricultural experiences.
Five Attractions of the SCRE GRAPE TOUR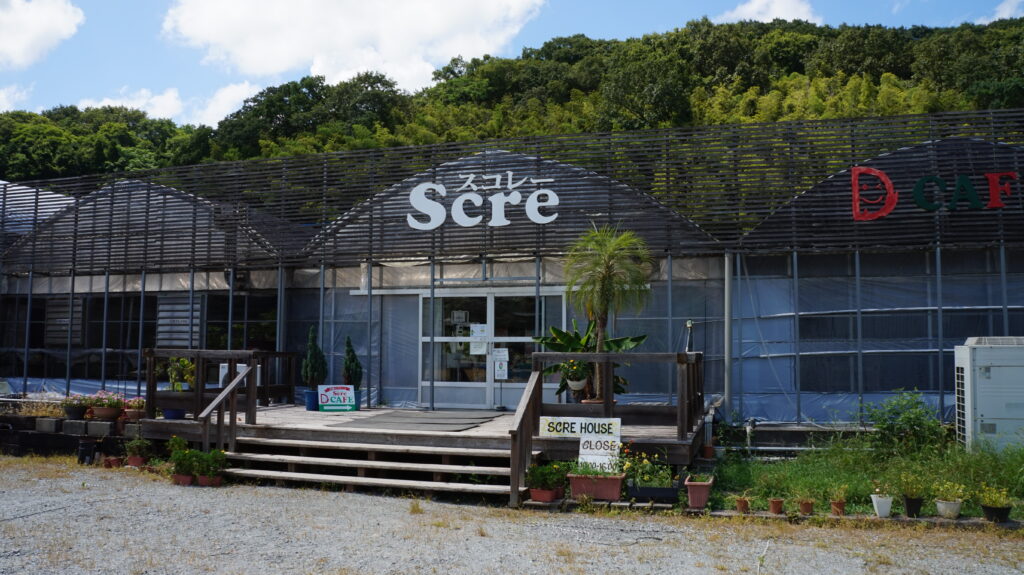 Overall schedule
| | | |
| --- | --- | --- |
| TIME | TIME SPENT | ACTIVITY |
| 11:00 a.m. | 60min | Grape seminar |
| 12:00 a.m. | 40min | Lunch |
| 0:40 p.m. | 20min | Orchard tour |
| 1:00 p.m. | 1hr20min | Grape farming activities |
| 2:20 p.m. | 20min | Coffee Break |
| 2:40 p.m. | 20min | Grape tree Seminar |
| 3:00 p.m. | – | Wrap up and shopping |
customizable 4-hour model tour
Grape Seminar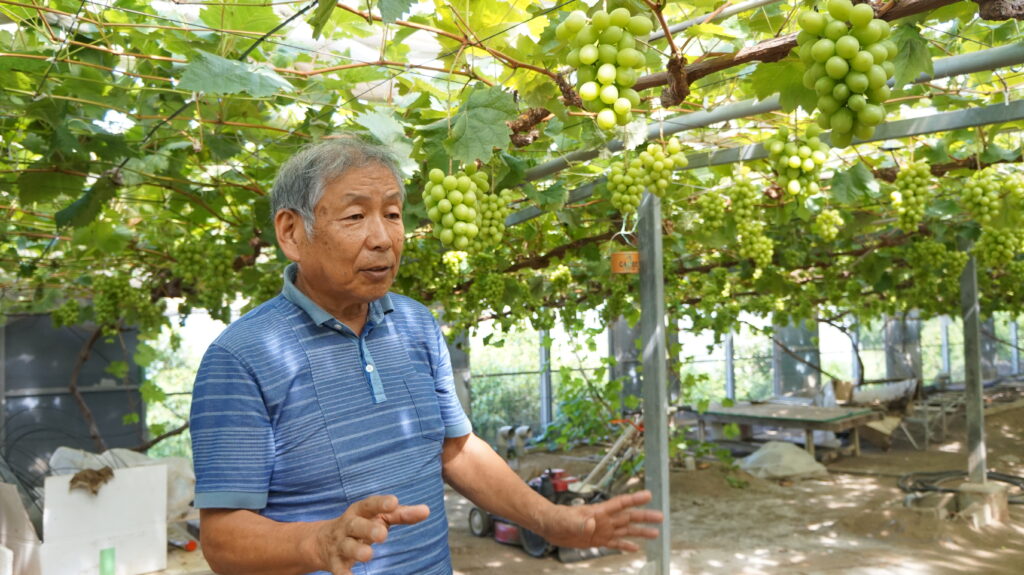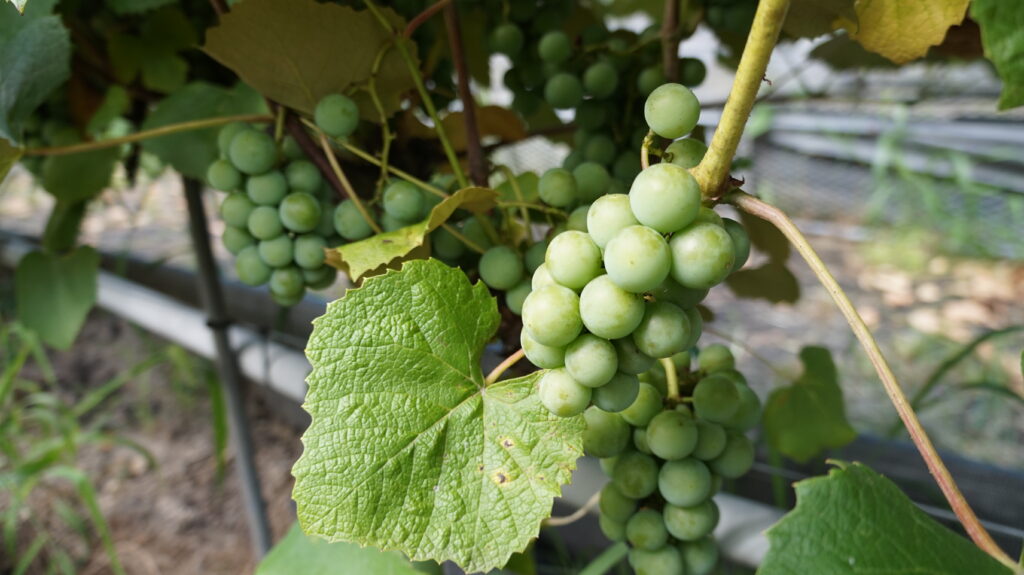 Iwao Ouchi, the representative of SCRE, has been growing grapes for decades.
He is certified as an "Okayama Prefecture Agriculturist," a sign of an outstanding producer who contributes to the development of agriculture and forestry in Okayama Prefecture. Ask him anything about viticulture.
The tour will be held at "SCRE" in Okayama Prefecture. Here, we offer fresh produce that only a grower can provide.
You can learn about the basics of grape cultivation in this seminar. You will learn about the history of grapes, different grape varieties, and the different stages of grape growth.
Lunch and coffee break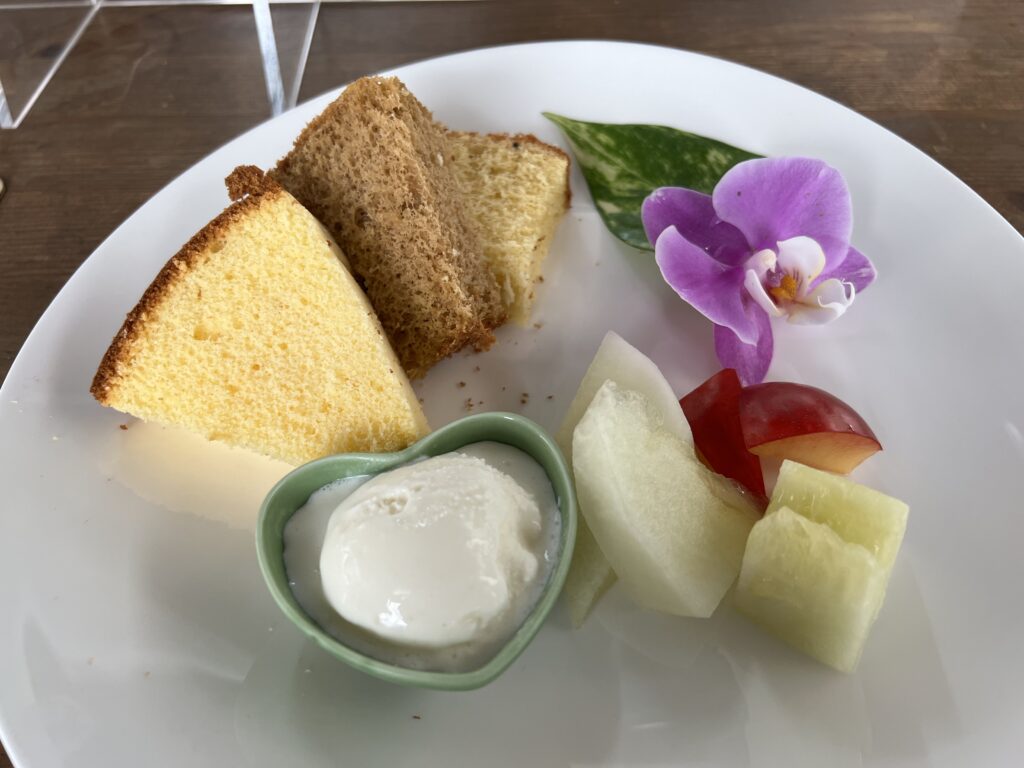 Meals and desserts are included in the tour with local ingredients from Okayama. You will also be able to enjoy set drinks such as juice made from fruits harvested at the farm.
Orchard Tour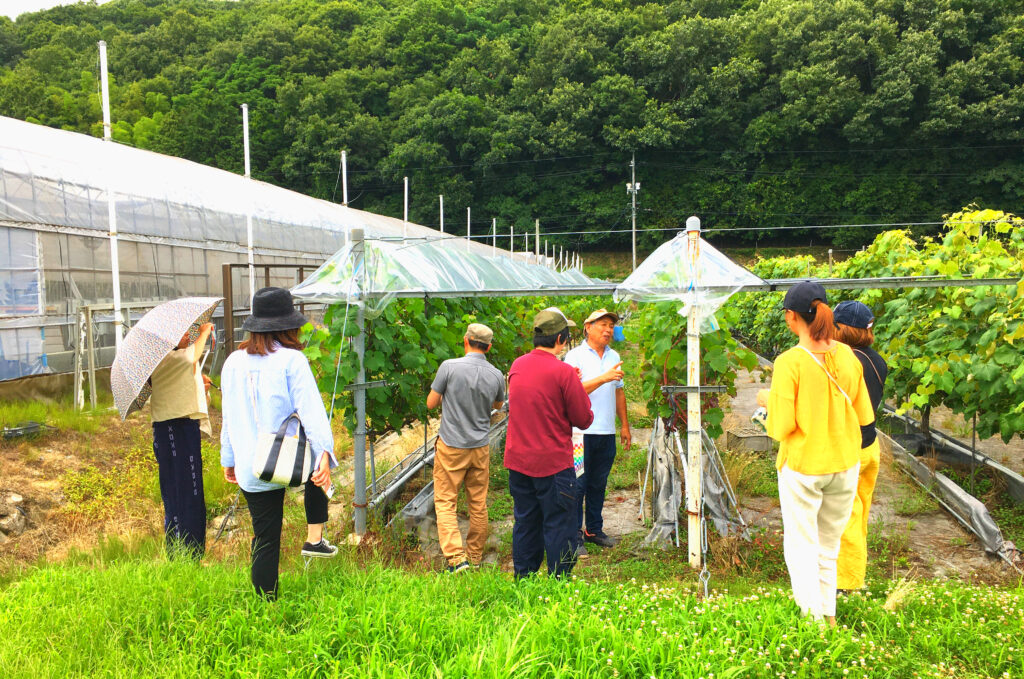 After lunch, you will take a orchard tour and learn about the different types of grapes. You will also have the opportunity to see the vines up close and ask questions about grape cultivation.
Grape farming activities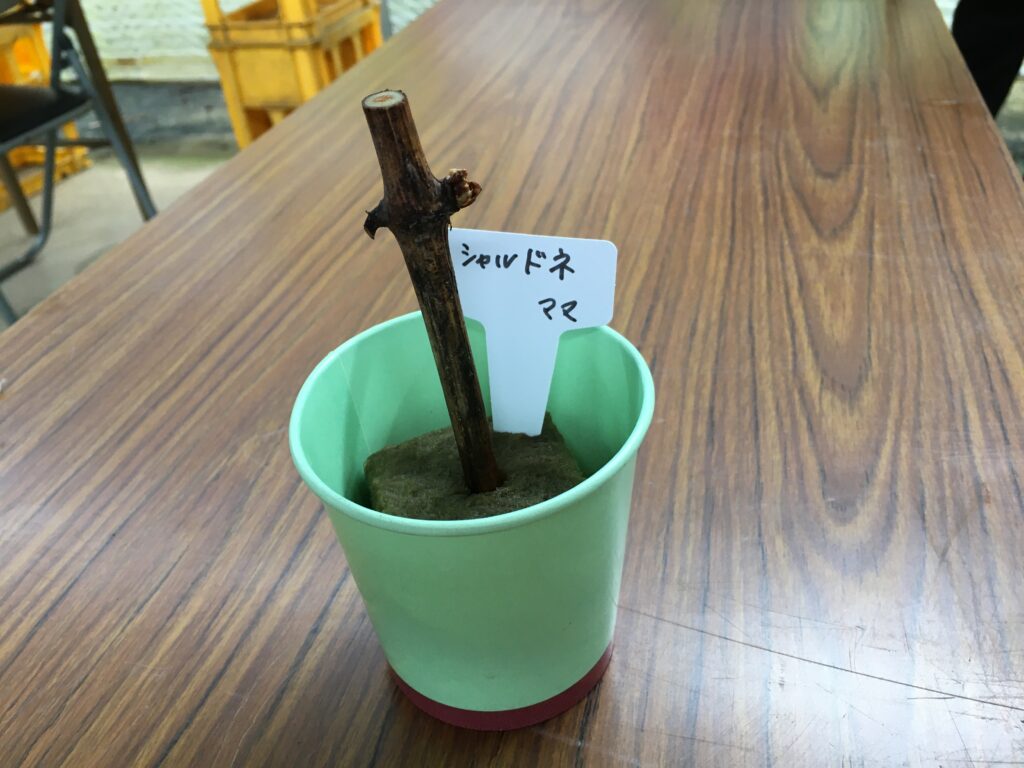 The grape-farming experience is a hands-on opportunity to learn about the different tasks involved in grape cultivation. You will have the chance to prune the vines, tie up the grapes, and harvest the grapes.
Grape tree Seminar
The grape tree seminar is a more in-depth look at the different types of trees and how they are grown. You will learn about the different factors that affect grapevine growth, such as soil, climate, and insect pests.
Wrap up and shopping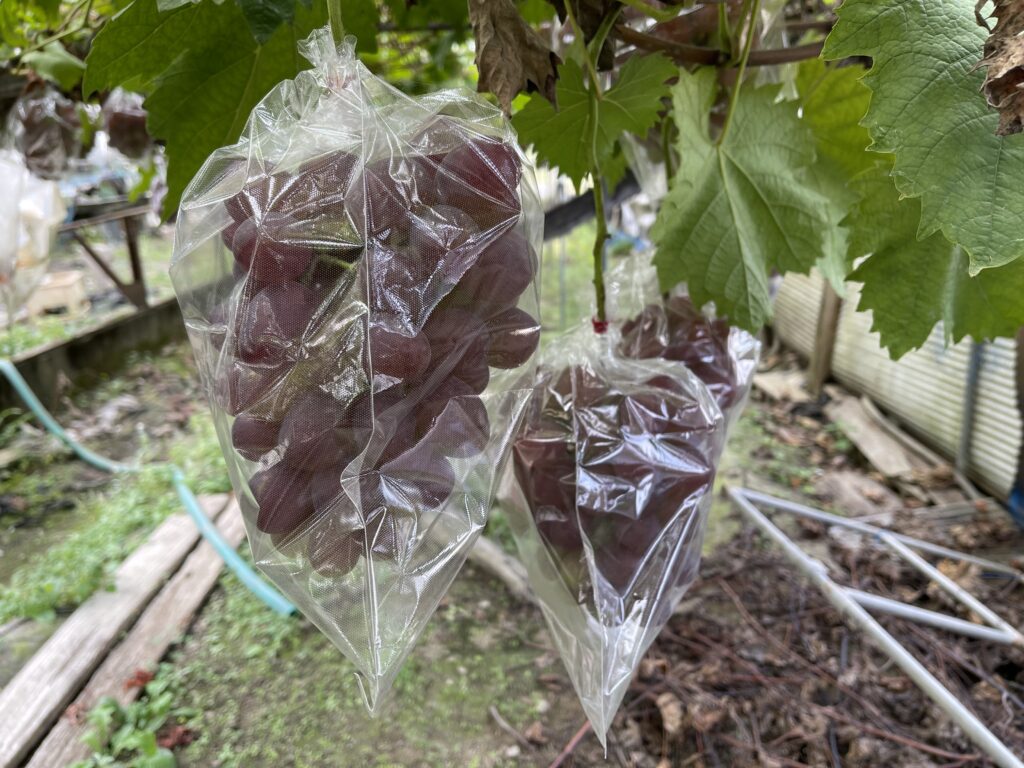 At the end of the tour, there will be a Q&A session where you can ask the grape farmer any questions you have about grape cultivation. You can purchase grapes and other products from the farm.
More information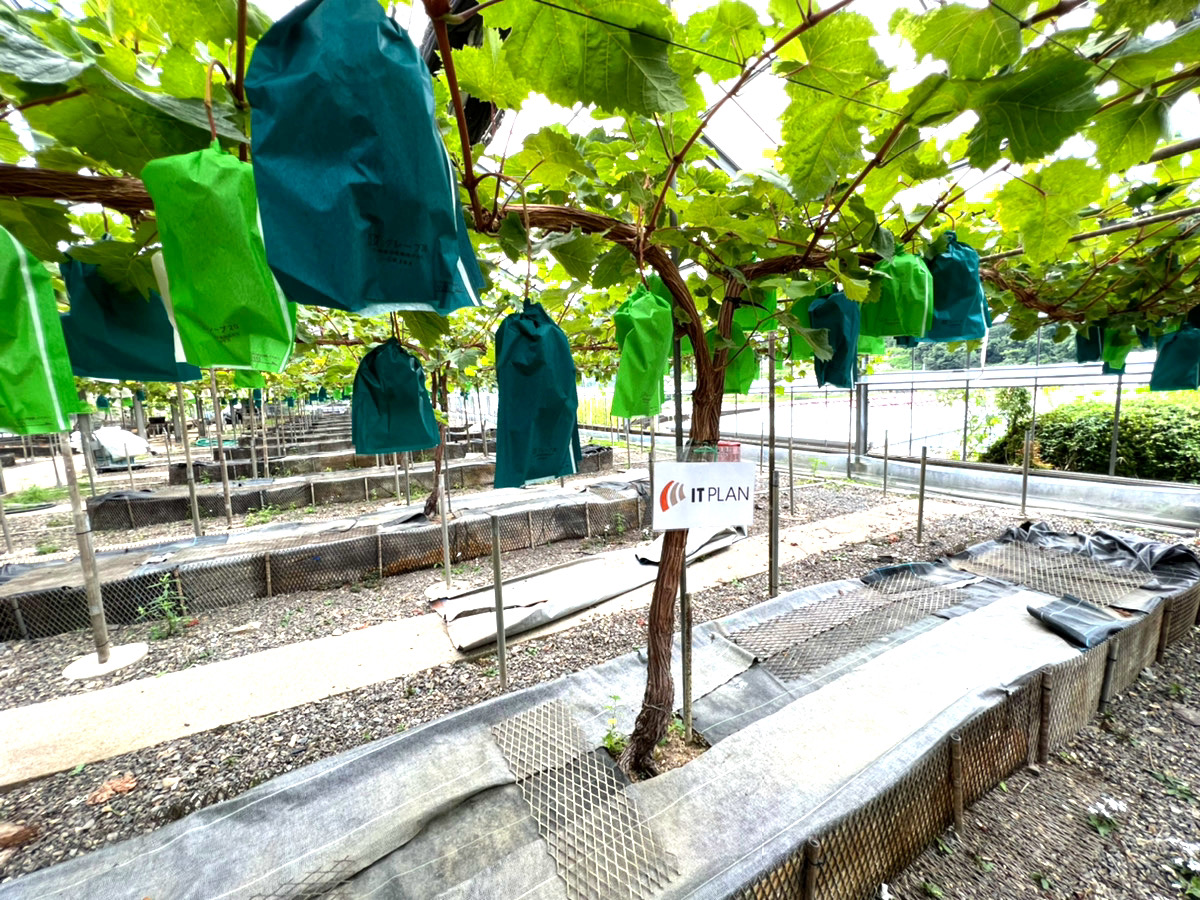 Participation fee
per group ¥77,000 + per person ¥5,500 tax included
ex. 4 persons: ¥99,000
Interpreters, tour conductors, and transportation are excluded. Please contact us if you need them.
Languages
Japanese
For other languages(includes English), please contact us.
Application
Application: Please contact us through our website.
Confirmation: We will confirm your participation and send you more information about the tour, such as the date, time, and location.
Payment: You will need to pay the participation fee in advance.
Tour: On the day of the tour, we will meet you at the designated location and start the tour.
Feedback: We would appreciate your feedback after the tour.
Terms and Conditions
The number of persons is limited to 20 per group.
The participation fee is not refundable.
The tour may be canceled due to bad weather or other unforeseen circumstances.
Participants are responsible for their own transportation to and from the tour location.
Ask in advance
The tour organizer will contact you to ask your preferred dates, number of participants, and any special considerations.
You will also have the opportunity to request travel plans that incorporate the SCRE GRAPE TOUR, such as lodging, sightseeing, meeting place, and time.
Proposal
The tour organizer will create a proposed plan for your tour.
You will review the proposed plan and let the tour organizer know if you have any changes you would like to make.
Once the plan and amount are finalized and payment is confirmed, the contract will be signed.
Please note that the varieties that can be harvested and the work that can be experienced may be subject to change depending on the crops and weather conditions.
Tour Day
The tour organizer will inform you in advance of precautions such as what to wear and what to bring.
Please be prepared for a safe and enjoyable experience.
The tour organizer will also be available to answer any questions you may have during the tour.
If you have any questions about the SCRE GRAPE TOUR, please do not hesitate to contact the tour organizer.
Related SDGs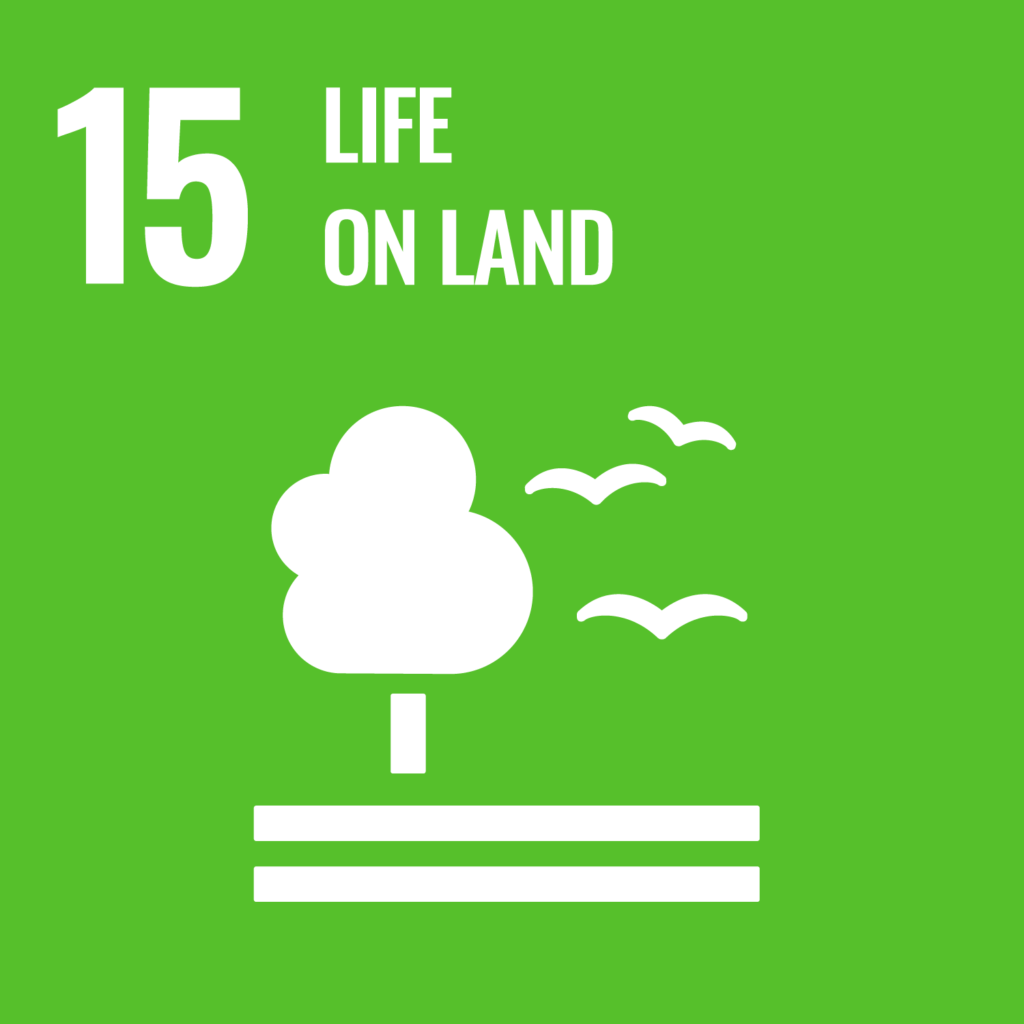 This product supports the following SDGs
SDGs15:Life on land
SDGs17:Partnerships for the Goals
Feedback from visitor


 The experience made me want to try to grow them by myself.
 I was able to ask everything I wanted to know during the question time.
 It was great to see the view of young grapes in bells and dragon fruit, which I have never seen before.

—Mr. K.K.
I recently became interested in agriculture, since I like grapes and eat them often, I wanted to learn more about grape growing. Even though I am a grape beginner, I learned a lot by visiting the vineyard and listening to explanations based on the textbooks. I am glad to have had these experiences. I felt very well.

ーMrs. J.O.
 The farmer's stories were interesting and fun. I enjoyed lunch, juice, and sweets.
 I enjoyed the farming experience and was able to learn what I wanted to learn in detail.
 It was the happiest time of my life.

—Mrs. Y.A.
 I joined the tour because I have potted grape vines at home and wanted to learn about them.
 I learned how to prune, when to prune, other management I can do at home right away.
 I learned a lot from the hands-on experience of actual work and cuttings.
 So satisfied with the tour. I wish we could have a tour several times a year to experience each season's work.

—Mrs. M.A.
Cancellation policy
Service Q&A
In case of rain
The event will be held even if it rains. The seminar and agricultural experience will take place entirely in the greenhouses, so it can be held regardless of the weather. However, please bring rain gear in case you need to move around in uncovered areas. In the event of heavy rain or storm warnings, the tour will be canceled depending on the situation.
Children and the elderly participation
There is no age limit, but the seminar will last about 1.5 hours, so please let us know if you have any concerns about participating for that length of time or about the physical demands of the agricultural experience.
What to wear
Please wear comfortable, non-heeled shoes and clothing that is appropriate for the weather. The seminar room and dining area are air-conditioned, but you may want to bring layers in case of temperature changes.